Bridal Beauty: How to Choose the Right Make Up and Hair Team for You
You're planning your wedding, and you're on the right track. You've got the perfect venue, you almost remember everyone your mom has snuck onto your guest list, and you and your fiance have finally agreed on the caterer. It seems like most of the biggies are out of the way, but are they really? What about you! Have you decided how you'll look on your day, and who's going to help you bring that to life?
No we don't mean your dress, of course that is an incredibly important component of your overall look. But whether you'll be dropping jaws in a backless lace mermaid gown or adorned head to toe in the regal red of a saree, what really makes a Bride shine is her smile; full of love and happiness, beaming from a beautifully glowing face framed with lustrous hair.
If you're like the typical woman, you know a thing or two about putting yourself together; for work, drinks with friends, maybe even attending a wedding or formal event. But hair and make up for your own wedding?? Like your florist, your photographer, and most of your other vendors, it's your best bet to leave that to the professionals.
That being said, how do you find the right team of pros for you? Not really feeling the lady that burnt your temple at your friend's wedding last spring? Don't really want a repeat of that blue-black smokey eye from your cousin's big day that you are doomed to be reminded of at every family gathering? The wedding beauty vendor market is full of hundreds of options per location, from freelancing artists to full service salons, to mobile teams that come to you. Google, Facebook, wedding planning sites, and wedding fairs all have tons of prospective businesses ready to be the next checked off vendor box on your list, so we have created any easy, modern way of navigating through this populous industry to help you have a fresh take on which Bridal Beauty Team is right for you.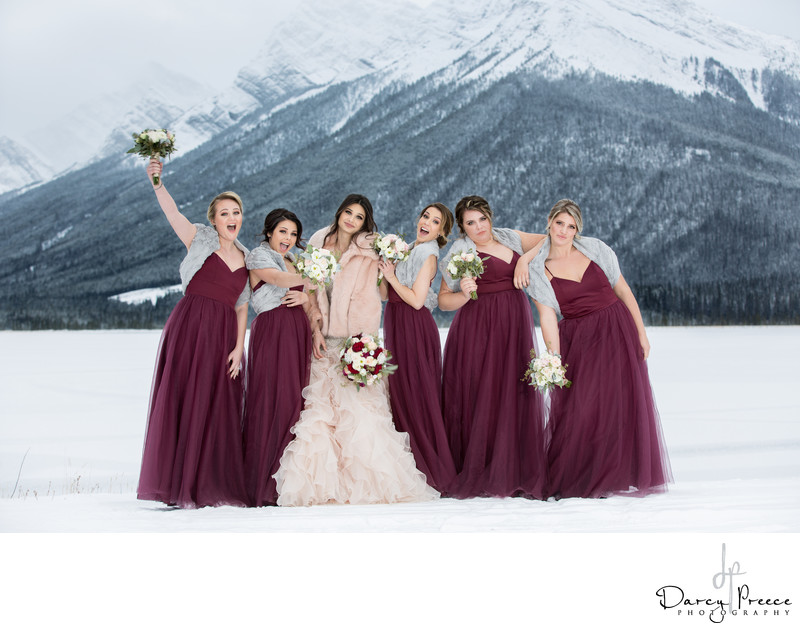 Step One: The Look
The easiest way for you to determine which beauty vendors to entertain is by first deciding what look you are going for on your wedding day. This can be narrowed down efficiently by comparing your already decided wedding day details with beauty inspo on Pinterest or Instagram. We find that brides that look for a cross of what they would normally do for themselves on a special occasion with keywords having to do with their wedding day 'theme,' end up feeling the most comfortable with trials and find their perfect team much easier. This is because once you have an idea of what you'd like to look like, it will be easier for you to spot these looks in artists' portfolios and you will know their skill level pertaining specifically to what you as an individual are looking for before you decide to book a trial.
Example:
Madison knew she was getting married at the beginning of November and decided on the prestigious Silvertip Resort in Canmore for her special day. A make up lover and princess at heart, she and her fiancé built their wedding day details such as colours, décor, bridal party clothing and invitations, around the theme of their day: A Romantic Winter Fairytale. With these details in mind, coupled with her own comfort level with make up, and taking her larger (over 5) bridal party into account, she scoured Pinterest, seeking possible looks and styles to present during her trials while finding a beauty team. After looking through portfolios that mirrored her findings and booking 2 trials, the team she felt most comfortable with was able to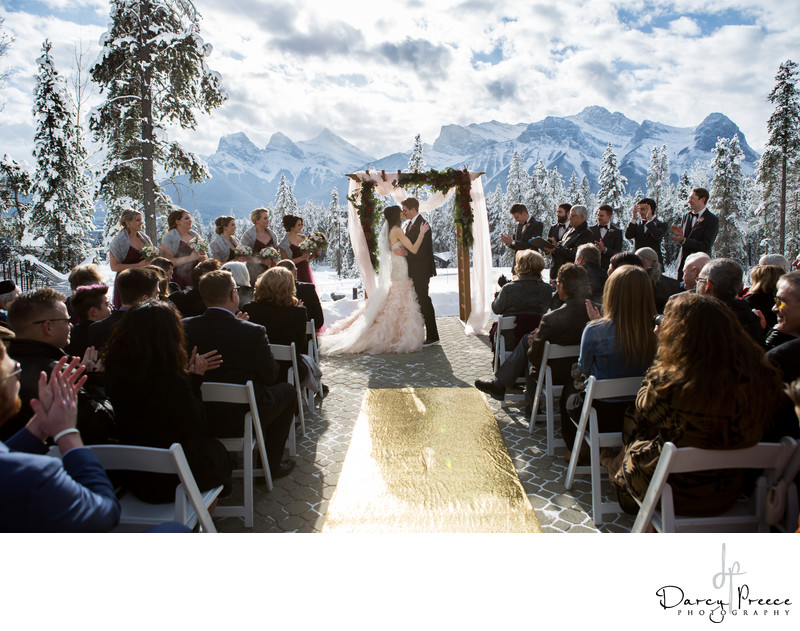 -give professional recommendations on the looks she suggested helping her to narrow it down to one (used years of experience and knowledge of wedding trends)
-execute the trial flawlessly (exhibited excellent technical skill)
-and went on to suggest ways, now that they've had the trial, on how they could make her dream make up and hair even more of a reality with some additional products and accessories (assessed their performance and took notes to improve results for the final application)
An indecisive bride? No fear! Still compile your bevy of possible looks and when contacting artists ask if they have some type of questionnaire or document they use to determine their clients' needs. Most beauty professionals with years of experience build a file on their clients just like spas/clinics and they too can help you narrow down your choices once they learn more about the details of your day.
Step 2: The Hype
In our technologically advanced world, every business gets rated. Online, on apps, on pages, thumbs up or thumbs down, they are all ranked out of 5 stars. These rankings of course can assist in finding a beauty vendor, or any vendor, that you can trust. On top of this, looking at the vendor's website testimonials from real clients, as well as referrals and recommendations from other vendors, is huge.
Any number of friends, family, or competitors, can click a rating on Google or the like within seconds. Real Brides that write in, expressing their utmost happiness and gratitude for the amazing way they felt on their day of thanks to their Bridal Beauty team, is a good sign. You will find that some brides write in via e-mail or straight onto a wedding planning site to assist with that vendor's stats. Others write in thank you cards, others tag their vendors on their Instagram posts and give their thanks on social media. Some brides even take selfies with their vendors and post quick thank you's on their stories fitted with their wedding day hashtags! And vendors are happy to share these on their sites. These brides rave about:
1.Ease to work with prior to the day (booking trials, turn around times on e-mails, etc.)
2.Punctuality (to trials/ the day of/ return at reception)
3.Ability to make the look a reality (technical ability)
4.Ease to work with on the day (comforting and friendly)
5.How hiring that team improved their overall Bridal experience (value)
Just as strong of a signal, is when other vendors from their day, ESPECIALLY those entrusted with the invaluable task of capturing special moments of the happy couple, are in support of a beauty vendor's magic. That is a massive green light on trusting a beauty team's work. Your photographer is the lead guitarist of your wedding day vendors. If they are head over heels with the results from a preferred beauty vendor they have had positive experiences with in the past, that means you are in for a wonderful experience and incredible results, both in person and also in your forever memories to look at for years to come.
Step 3: The Vibe
So you've done your due diligence:
-you've got some looks you really love based on your wedding day details and your personal style
-you've researched the portfolios of perspective beauty vendors and
-you've looked through their testimonials and other vendor commendations
Amazing! Still, you hear of brides going to 3, 4, even 5 trials and still not finding the right team, and based on e-mail correspondence you've got 2 or more teams you think could be the right fit. Who do you give the last rose to?
Let's take another look at the list of 5 things Brides rave about in their testimonials about their beauty vendor in Step 2. #4 Ease to work with on the day of.This, we in today's industry feel, is our generation's make it or break it factor for choosing your Day Of Vendors. Your beauty team has an incredibly important job. Not only are they bringing to life your vision of yourself on such a magical and joyous day, but they are spending some of the most intimate moments with you before the energy of the day sets in. They see your mom running trying to find things to do out of nervous excitement. They see your younger sister yawning with teenage apathy. They see your sister in law already up to here with your niece and nephew demanding the ice cream from the rehearsal dinner for breakfast. And they see you. And you are doing pretty darn good, because besides seriously vetting this team of perfectly wing-linered and coiffed at 6 am superstars online, you took Step 3and got to know them.
We suggest meeting your bridal teams prior to a trial. At the very least, especially if you are out of town or even may not possibly have a trial, chat on the phone. It is one thing to be good at what you do and professional about it, but for a person to spend the morning of your wedding (and depending on what packages they offer, some of the rest of that day) with you and your otherwise most favorite people, you gotta get along! More often than not your artist and stylist also assist with keeping your schedule going, keeping you sane when faced with not so favorite wedding guests that decide to 'pop by', and help to solve dilemmas like how is bridesmaid #3 going to get hair and make up if she's still passed out from last night? (yes, this happens, and yes, there's a solution, I've solved it myself!) Your make up and hair team's #1 priority is you, and most professional artists or teams are more than happy to book a consultation at your convenience to chat over coffee or even on Skype. Knowing that you are getting excellent service and professional results is only topped when you know those two things are coming from someone you are happy to have with you on that special morning. Confirming that 3rd component will help you finally know when it's time to call off the search and book.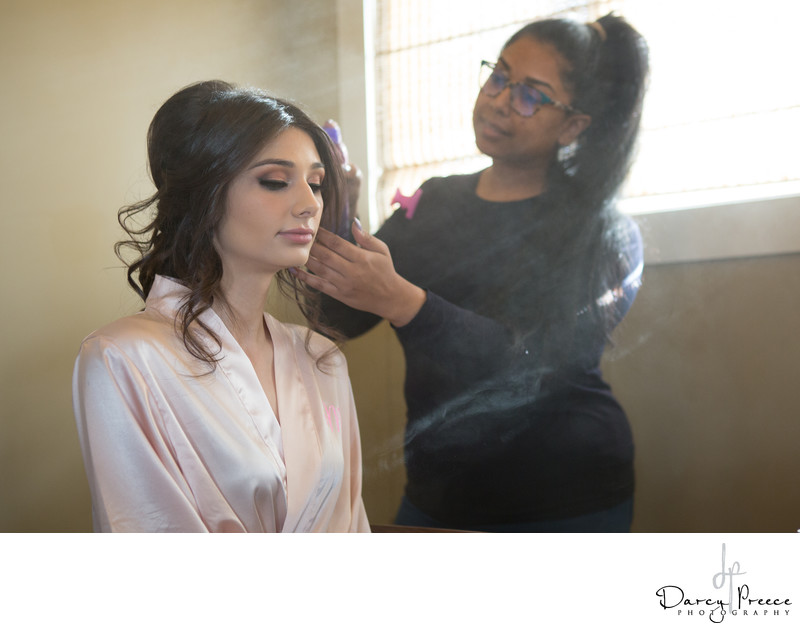 To recap, wedding professionals suggest the best way to choose the right beauty team for you is to:
1.Find your look, so you can find portfolios of artists who excel at creating it
2.Go through real bride's testimonials on your vendor's site and accredited wedding planning resources, as well as commendations from other vendors to know who you can trust
3.Get to know your prospective favorites to tell who you get along with best for your morning of
We hope this little piece made up of our collective years of experience helps you to finalize a truly important part of your day of. Congratulations and Best of Luck!
Annika Rayman
AnnimationsMkUp
AnnimationsMkUp owner Annika Rayman was formally trained and started her Bridal Beauty career in Toronto, Ontario. Since 2010, Annika has provided signature Bridal hair styles and since 2012 beautiful Bridal make up looks. Coupled with her business management education and years of practical experience, AnnimationsMkUp guarantees Brides and their Bridal parties an unforgettable experience and wonderful life long memories.
https://www.annimationsmkup.com
ajrayman@gmail.com